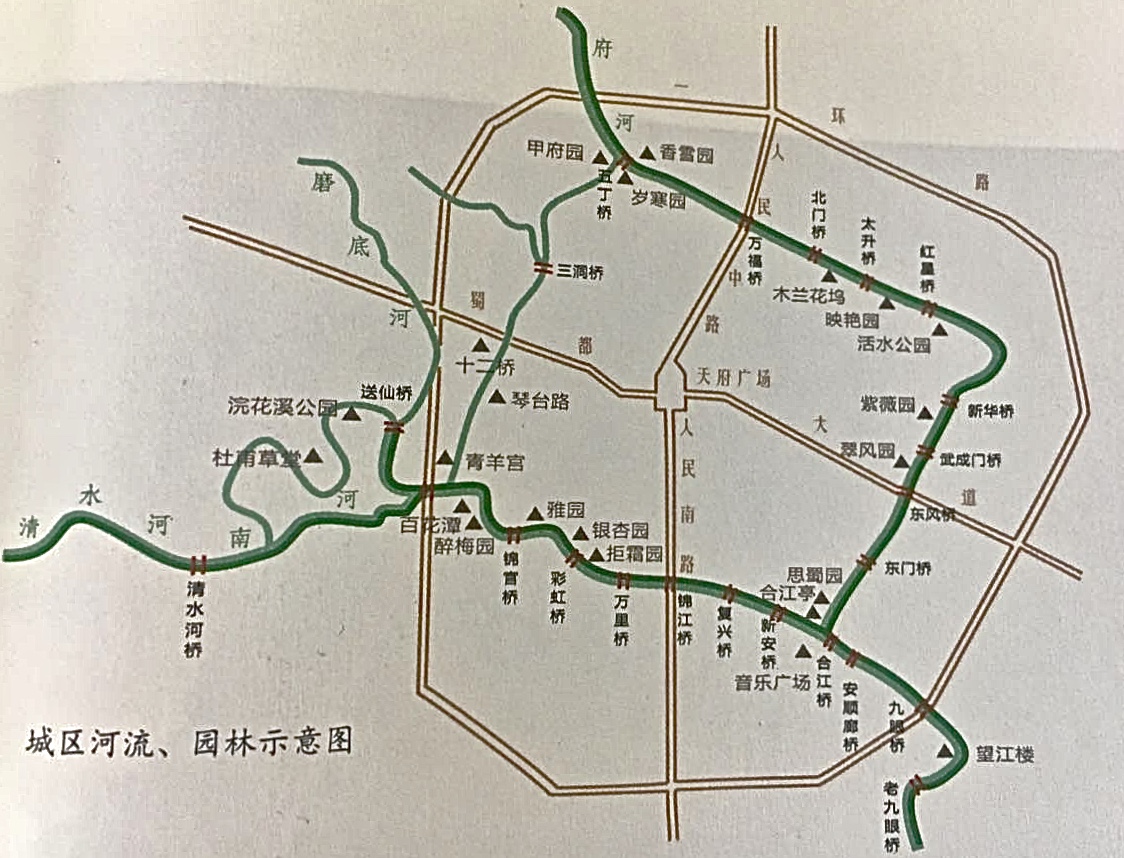 It is possible to follow Chengdu's rivers in a full circle around the city centre. Starting at Wanli Bridge, Hai Ke took notes of the most interesting places he passed. Here is the translation:
9.30 万里桥I set off from South Gate, Wanli Bridge and follow the river. Wanli Bridge, which can also be translated as Ten Thousand Li Bridge, got its name during the Three Kingdoms Period. When Zhuge Liang had a banquet here to send off Fei Hui on a diplomatic mission, Fei Hui sighed and said "a journey of 10,000 li (5000km) starts from this bridge."
9.45锦江桥Arriving at Jinjiang Bridge, I'm met with the shade of willow trees. The Jinjiang Hotel and Jinjiang Bridge were both built in the 1950s as a product the Sino-Soviet Treaty of Friendship and Alliance. At the time, the city was mostly made up of low-lying houses, and these tall buildings stood out as landmarks.
10.00新南门Passing through Binjiang Park, I arrive at Xinnan Gate (New South Gate). Originally there were just four city gates in Chengdu (North, South, East and West). New gates were opened up during the Japanese War of Resistance (1937-1945) to make it easier to escape from air raids.
10.15安顺桥旧址I arrive at the old site of Anshun Bridge. This bridge was described by Marco Polo and has been rebuilt many times, most recently out of reinforced concrete. It is now called Xing'an Bridge.
10.30合江亭I stop and look at Hejiang Pavilion, which lies at the convergence of the Nan and Fu Rivers. There was a pavilion here in ancient times, and it has been rebuilt many times. Standing here, you would never know that in the 1950s and 60s, this place was a manure dock.
10.45廊桥Lang Bridge was built from limestone according to descriptions by Marco Polo and has become a new landmark in Chengdu. To the north of the bridge is the poem "Lang Bridge" by Sichuan prodigy Huai Minglun.
11.15 水井坊After following the Nan River to Hejiang Pavilion, I go back upstream and join the Fu River. I pass the old retail area of Shuijing Street, where there is a cultural relic under state protection: Quanxing Wine Cellar. The nearby Huangsan Alley has become a popular nightlife area: Lang Kuai Fong. I take some pictures of the old buildings, knowing that soon they'll all be cleared away.
12.30东门大桥Dongmenda Bridge is the beginning of Dongda Road, which has been an important communication channel since ancient times. Famous comedian Li Boqing used to work as a rope maker on the streets near here.
12.45东风路大桥Dongfengluda Bridge was built in 1958 during the Great Leap Forward in the Soviet style. It's huge and dignified, with pillars as wide as a person. In the summer, brave people lie on top of it to cool down. The water is relatively deep, making it a natural swimming pool for those living nearby. When I was younger, I used to love swimming here.
14.00二号桥Erhao Bridge was built in the 1950s with assistance from the Soviet Union.
14.15活水公园The Living Water Park is an example of environmental protection, naturally removing pollution from the waters. Before, it was a polluted floodplain, but now it's a beautiful park and a popular place for wedding photos.
15.15Between一号桥and北门大桥 There are many ramshackle teahouses between Yihao Bridge and Beimenda Bridge. Finding a clean one, I sit and rest for half an hour, listening to people chatting and watching women dance on the river banks… the perfect urban picture.
16.00五丁桥After Wuding bridge, the river splits into two sections: one big, one small. To get back to Nan River, you need to follow the small river and cross Guchengqiang Avenue. Inside the city walls used to be the Northern Military Ground, Wutan Mountain.
16.30西郊河You need to continue all the way to Xiyuecheng Street before you can rejoin the river. The old city centre is surrounded by rivers to the north, south and east, but to the west there is just a deep, narrow canal, obscured by bushes called Xijiao River, which connects the Fu and Nan Rivers. At Sandong Bridge, the Yinma River joins the canal, making it wider, and from then on there is a green belt along the river again.
16.45十二桥When people were naming Shi'er (12) Bridge, they thought of the famously beautiful Ershisi (24) Bridge in Yangzhou. Wanting to be modest, they decided to name this bridge half of 24.
17.15青羊宫After Shi'er Qiao, the green walkway is cut off again by Qintai Road and Qingyang Palace. The river is very pretty as it goes through the park, all the way to Sanhua Lou and the entrance of Baihuatan Park, where you can see it flowing into the Nan River.
17.30 大石西路Dashixi Road was used to be a riverbank filled with rubbish, but is now the prettiest stretch of the river, with carvings of poems and beautiful gardens. What used to be the bridge to the army bedding factory has now been built into a Rainbow Bridge, which reflects the multi-coloured flowers in the gardens of the opposite bank.
17.45南门码头After crossing the Rainbow Bridge on Hongyan Road, you can see Wanli Bridge in the distance, where I started this morning. The South Gate Pier was built deliberately at a slant, and is beautifully decorated.
18.00万里桥At the end of Wanli Bridge is a hotel built to look like a boat, which has become the landmark for this area. Arriving here, I have completed a ful circle of the city rivers. Having finished this walk myself, I now know that if you leave at 9.30am, stop for lunch for one hour, and have two half-hour coffee or tea breaks on the way, you can be finished by 6pm.